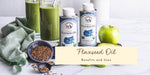 The tiny but mighty flaxseed has been earning more recognition for being a superfood. Although it may seem like just a small shiny seed, looks can be deceiving. The flaxseed is filled with so many nutritional benefits, and thus, flaxseed oil has steadily risen in popularity. With a wide variety of health benefits and culinary uses, it is no wonder people are turning to flaxseed oil to enhance their cooking and well-being. 
Read on to discover how this humble seed can improve your health and how to start incorporating flaxseed oil into your daily diet.
7 Flaxseed Oil Benefits
To find out why you should start incorporating flaxseed oil into your daily routine, check out these top seven flaxseed oil health advantages.
1. Rich in Omega-3 Fatty Acids
Just like the seeds it comes from, flaxseed oil is full of heart-healthy omega-3 fatty acids. One tablespoon of flaxseed oil contains a remarkable 7,196 milligrams of omega-3 fatty acids. Because omega-3 fatty acids are essential to health, flaxseed oil can be an excellent solution for those who need help getting enough omega-3 fatty acids in their diet.
Specifically, flaxseed oil is full of alpha-linolenic acid, one of the three main omega-3 fatty acids. The body doesn't naturally produce ALA, so we must get it from the food and beverages we consume. By consuming only one tablespoon of flaxseed oil each day, you can meet or exceed your daily ALA needs.
2. Reduces Inflammation
Due to its high omega-3 fatty acid content, flaxseed oil may help reduce inflammation for some people. Because inflammation can cause pain, swelling and other symptoms, minimizing it in the body is crucial. A study on animals also showed that flaxseed oil contains potent anti-inflammatory properties.
Another study found that consuming flaxseed oil significantly lowered C-reactive protein levels, a measurement used to monitor inflammation, in obese participants. However, flaxseed oil may not have the same effects on everyone, and those at a healthier weight may not see as many benefits. More research is necessary to determine flaxseed oil's exact effects on inflammation for the general population.
3. Improves Gut Health
Flaxseeds can also help to optimize gut health. Because flaxseed oil contains laxative properties, it can help relieve constipation. Specifically, a study of hemodialysis patients found that a daily intake of flaxseed oil helped ease constipation symptoms. Research has also found that flaxseeds may also benefit those with irritable bowel syndrome by lowering the inflammation that often leads to IBS symptoms like constipation and diarrhea.
A study involving animals also showed that flaxseed oil could act as a laxative to support regularity while serving as an antidiarrheal agent. While these results have encouraging implications that flaxseed oil may be useful for treating diarrhea and constipation, more research is necessary to evaluate its impact on the general population.
4. Aids in Weight Loss
Because high-fiber flaxseed oil helps the digestive system function efficiently, it may help with weight loss and detoxification. Flaxseeds are an excellent source of soluble and insoluble fiber, both of which can help prevent obesity. Research has found that flaxseed fiber could help people reduce their food intake by suppressing their appetite and making them feel fuller longer.
Along with appetite suppression, studies have shown that flaxseed can help improve glycemic control by balancing out blood sugar and insulin levels. Keeping these levels in check can help with weight management.
5. Positive Skin Effects
Regularly consuming flaxseed oil may result in better skin health. One study found that women who took flaxseed oil for 12 weeks experienced improved hydration and skin smoothness. Additionally, their skin's sensitivity to roughness and irritation decreased.
Because low ALA often leads to skin-related issues, the high amount of ALA in flaxseed oil promotes skin health. Another study found that flaxseed oil may aid skin regeneration and reduce skin cell inflammation.
6. May Cut Down on Cancer Cell Growth
There is promising scientific evidence that flaxseed oil may help to reduce the growth of cancer cells. Though the research is currently limited to animal and test-tube studies, the results indicate that the fatty acid found in flaxseed oil may help kill cancer cells and suppress breast tumor size and growth.
One study in which mice received a dose of flaxseed oil for 40 days found that the oil limited lung tumors' growth and halted cancer spread. Researchers have also found flaxseed oil can prevent the formation of colon cancer in rats. While these findings are promising, further research is necessary to determine how flaxseed oil could impact cancer cell growth in humans to draw more definite conclusions.
7. May Benefit Heart Health
Many studies have indicated that flaxseed oil can significantly benefit heart health. In particular, one study found that regularly giving participants one tablespoon of flaxseed oil for 12 weeks resulted in lower blood pressure levels. This finding is significant because high blood pressure forces the heart to work harder by placing extra strain on it, severely affecting heart health.
Due to its high concentration of omega-3 fatty acids, flaxseed oil can also help improve arteries' elasticity. Both high blood pressure and aging can lead to a decrease in elasticity. However, the omega-3 fatty acids in flaxseed oil may help reverse these effects by lowering blood pressure and reducing inflammation.
How to Use Flaxseed Oil
Now that you know how great flaxseed oil can be for your health, it is time to learn how you can reap those benefits. You can easily enjoy the health benefits of flaxseed oil by adding it to your daily diet. Fresh flaxseed oil tastes mildly nutty and crisp, making it delicious as well as nutritious.
Here are five tips for flaxseed oil usage in the kitchen. See how this tiny seed can have major changes to your diet.
1. Add Flaxseed Oil Into Smoothies
Blending flaxseed oil into a fruit smoothie, protein shake or vegetable juice is a great way to sip your nutrients. Because flaxseed oil has a mild flavor, it will hardly affect the drink's taste.
2. Mix Flaxseed Oil into Pancake or Waffle Mix
Adding flaxseed oil into your pancake or waffle mix is an excellent way to reap the benefits of flaxseed oil during your morning routine. It's the perfect way to ingest it without even know you are doing so.
3. Season Your Cast Iron Pan
Using flaxseed oil to season your cast iron pan is a great way to protect your cast iron from scratches and leaves the surface sleek and smooth. Try substituting out your regular vegetable oil and you'll notice a difference in your pan's look and feel.
4. Use Flaxseed Oil in Condiments
You can mix flaxseed oil into your usual condiments, such as mayonnaise, ketchup or pesto, and use it however you typically would. Combining flaxseed oil with vinegar also makes an excellent salad dressing.
5. Top Soups With Flaxseed Oil
Individually garnish your soup with flaxseed oil to enhance its flavors. Swirling some flaxseed oil into bowls of soup or stew allows you to get the full health benefits of flaxseed oil instead of losing some nutritional value during the cooking process.
Order Artisan Flaxseed Oil From La Tourangelle
If you are ready to try cooking with flaxseed oil, check out the high-quality organic flaxseed oil from La Tourangelle — Artisan Oils. La Tourangelle flaxseeds are sourced from an organic, 3 generation family-run grower based in North Dakota. Today, La Tourangelle remains a thriving family-owned business whose mastery of oil production is the fruit of passion, integrity, and pride. In addition to its own nut oils, La Tourangelle has established partnerships with a handpicked selection of like-minded high quality oil producers, chosen to bring you the best artisan oils from around the World.
Start getting creative in the kitchen by ordering your La Tourangelle Organic Flaxseed Oil today.