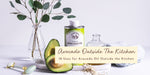 The humble avocado might not look like much on the outside, but it is what inside that counts. Avocados, and by extension, avocado oil, are
full of monounsaturated fats
, a type of fat that is considered to be heart healthy. Avocados and avocado oil are also excellent sources of antioxidants such as vitamin E, which can help keep your skin looking youthful for longer and can help to minimize damage caused by free radicals. Another benefit of avocado oil is that it is not just for cooking. While you can find many uses for the oil in the kitchen, there are also many uses for avocado oil outside the kitchen. From softening your skin to protecting your hair and from minimizing dark circles to improving the scent of your home, here are 18 uncommon uses for avocado oil.
Cosmetic Uses for Avocado Oil
Avocado can be used for a variety of cosmetic purposes, such as:
1. Avocado Sugar Scrub
One of the benefits of using sugar for your skin is that it can help to exfoliate away dead, dry skin cells, letting fresh new cells shine through. Sugar is also a humectant. It can attract moisture from the air or surrounding environment and transfer it to your skin, helping your skin stay soft and moisturized. You can easily make your own avocado oil sugar scrub, using ingredients you probably already have at home. The easiest way to make a sugar scrub with avocado oil is to mix one-part avocado oil and one part brown or raw sugar. You can adjust the amounts based on whether you want a runny, soft scrub or one that is thicker and denser. To use the scrub, scoop a little bit out of the bowl or jar and rub it over your hands, legs or another area of the body. Rinse the sugar away. The avocado oil should leave your skin feeling super soft.
2. Soften Your Cuticles
One of the great things about avocado oil for skin care is that it is very emollient and can sink deeply into the skin. That makes it an excellent option when you want to soften tough, hard skin, such as the cuticles around your nails. You only need a little bit of the oil to help soften the cuticles. While you can pour the oil right on your fingers, it is often easier to pour it into a bottle, such as a roller ball bottle, first. You can also add a few drops of essential oil to the avocado oil if you wish. The essential oils will give the cuticle oil a pleasant scent, but they are not necessary. To use the avocado oil to soften your cuticles, roll or rub a small amount of it onto the cuticles — after cleaning and drying them. Gently massage the oil into the skin. You can repeat as many times throughout the day as you would like.
3. DIY Hair Mask
Just as avocado oil can help soften your skin, it can also help to condition and soften your hair. Your hair will look shinier and healthier overall. Plus, the conditioning will help you avoid tangles and snarls. One way to get the benefits of the oil for your hair is to make a hair mask. To make the hair mask, you will need:
1 medium-sized, ripe avocado
1 medium, ripe banana
1 tablespoon avocado oil
1 tablespoon coconut oil
1 tablespoon honey
Mix the ingredients in a bowl. To make the mask as smooth as possible, blend the ingredients using a blender. Spread the mask all over your hair, from the roots down to the ends. Let it rest on your hair for at least 20 minutes. You can leave it in for up to a few hours. When done, rinse the mask off with warm water or shampoo.
4. Leave-In Conditioner
If you're looking for a more straightforward, quicker way to use avocado oil to soften and tame your hair, you can also use it on its own as a leave-in conditioner. To use the oil as a leave-in treatment, massage about a teaspoon's worth of oil into your hair, from the roots to the ends. You might need to use more, depending on how long your hair is or how much hair you have. You can use the leave-in treatment on damp hair or dry hair. Do not blow dry your hair or use any heat tools until the hair is dry, and the oil has been fully absorbed. View our avocado oil here! Interested in getting the latest special offers, newsletters and recipes? Sign up for our Artisan Oil Club! 
5. Hot Oil Treatment
Whether you have dry or oily hair, a hot oil treatment can help it out. You have probably seen hot oil treatments for sale in the haircare section in little plastic tubes. Homemade hot oil treatment is similar, except, in this case, it uses avocado oil. Although you can use avocado oil on any hair type, it can be particularly beneficial for very dry or frizzy hair since it is one of the more moisturizing oils available. One of the simplest ways to use avocado oil for a hot oil treatment is to directly heat the oil. You do not want to put the oil in a saucepan and bring to a boil, as that will make it too hot. Instead, pour a small amount of oil into a glass jar. Fill a bowl or saucepan with water that is just off the boil. Place the jar of avocado oil into the hot water — put the container itself, not the oil, in the water. Let the jar sit in the water for a few minutes. Dip a finger into the oil to test its temperature. It should feel pleasantly warm. You do not want it so hot that it burns you. Once the oil is the right temperature, rub a small amount of it into your hair and scalp. Gather up your hair and tuck it into a shower cap or wrap it in a towel. Let the oil sink into your scalp and hair for about 20 minutes, then rinse it out with warm water. You can get fancy when making a hot oil treatment and combine avocado oil with another type of oil, such as coconut or olive oils. You can also mix in a few drops of essential oil, such as rosemary or peppermint. Essential oils add scent, and they can also help the hot oil treatment invigorate your hair and scalp.
6. Makeup Remover
Another one of the unconventional uses for avocado oil is as a makeup remover. You do not have to do anything to the oil to use it to take off your eye makeup and other cosmetics at the end of the day. To use, simply pour a bit of the oil onto a cotton ball or cotton pad. Gently rub the oil over the area with makeup. Your mascara, eyeshadow and other makeup should be removed cleanly and quickly. You might notice a bit of residue left over after you use the oil to take off your makeup. Just gently massage the oil into your skin to take advantage of its moisturizing abilities.
7. Skin Moisturizer
Avocado oil is high in oleic acid, a type of fatty acid. It is the high percentage (63 percent) of oleic acid that allows the oil to absorb deeply into the skin. If you would like to use avocado oil to help soften and soothe very dry, chapped skin, all you need is to be massage a small amount into the skin. The oil can be especially effective on areas like the knees and elbows, which tend to get drier than the rest of the skin. Another option is to mix a few drops of avocado oil into your favorite lotion, to improve the moisturizing abilities of the lotion. You can also combine avocado oil with another moisturizing oil, such as emu oil or tamanu oil — two parts avocado oil, one-part other oil — and use that mixture to soften and moisturize your skin.
8. DIY Face Mask
Similar to the DIY hair mask, you can use avocado oil as one of the main ingredients in a DIY face mask. To make your own moisturizing facial mask, mash one medium-sized avocado. Stir in a small amount of avocado oil to make a cohesive paste. Apply the mask to clean skin and let it sit for about 15 minutes. Rinse away with warm water. If you have oily skin, it is a good idea to cleanse your skin after using the face mask.
9. Skin-Nourishing Cream
Whether you want to fight the signs of aging or want a super-powerful, nourishing cream, avocado oil can take a starring role. Here is how to make a cream that will nourish your skin and help protect against fine lines and wrinkles. Combine four parts avocado oil, two parts coconut oil, two parts beeswax, one part shea butter and a minimal amount of vitamin E — you can squeeze the gel out of a tablet — in a small heat-proof glass jar. Place the glass container in a pan of water, so that the water comes up the sides of the jar. Bring the water to a simmer and stir the ingredients in the jar until combined. The beeswax, coconut oil and shea butter should melt together. Once the ingredients are blended and melted, remove the jar from the heat. Let the mixture cool so that it develops into a thick cream. Use as needed.
10. Cream for Dark Circles
Depending on the cause of your dark under eye circles, avocado oil might be able to help minimize them. Some types of dark circles appear because the skin becomes thinner with age, revealing blood vessels below. Those blood vessels show up in the form of purple/blue circles beneath the eyes. Avocados are an excellent source of vitamin K, which is known for helping to shrink blood vessels and improve circulation, making your dark circles less noticeable. The absorbability of the oil can also help it thicken the skin beneath the eyes. Another way to use avocado oil to improve the appearance of dark circles is to combine it with another dark circle-fighting ingredient such as caffeine. You can make an under-eye cream by infusing another type of oil with coffee, then diluting that oil with avocado oil. Here is how: Pour about 1/2 cup of ground caffeinated coffee into a jar. Pour almond oil over the ground to completely cover and submerge them. Put a lid on the jar and let the mixture steep for several days. Place a fine mesh strainer over a glass measuring cup, then place a coffee filter in the strainer. Pour the coffee grounds/almond oil mixture over the filter, so that the oil strains into the measuring cup. Add about one tablespoon of avocado oil to the strained almond-coffee oil. Mix well, then pour into a small bottle. Apply a small amount of the oil to the under-eye area in the morning to depuff and help to fade dark circles.
11. Massage Oil
Because of its high-fat content, avocado oil is an excellent choice for use as a massage oil. To make your own massage oil using avocado oil, combine about 10 drops of your favorite essential oil with one ounce of avocado oil. If you are looking for a massage oil that will help you relax and unwind after a long day, lavender essential oil is a good pick. Other options include turmeric or ginger essential oils for pain relief and lemon essential oil to help soothe your skin.
12. Hair Growth Booster
Some types of herbs are believed to help stimulate hair growth. While using these herbs won't reverse male or female pattern baldness, they can help improve blood flow to the scalp, which can have a positive effect on the rate at which your hair grows. A few herbs that can help hair growth include rosemary, peppermint, and lavender. To use an herbal remedy to encourage your hair to grow, combine a few drops of the herbal essential oil of your choice with one ounce of avocado oil. Apply the oil mixture to the scalp and roots of the hair, massaging it in well. There's no need to rinse the oil away. Your scalp should absorb it fairly readily. If you do feel that it's made your scalp or hair too greasy, you can rinse any excess out using warm water.
13. Facial Cleanser
For years, the thinking was that putting oil on your skin, especially if you had oily skin, was a bad idea. People believed that oil would clog the pores and lead to breakouts. Nowadays, however, people frequently use oil as a cleanser for the skin, but it is important to pay attention to how your skin reacts. Sometimes, for those with oily skin, the emollient nature and weight of the avocado oil does not work well. In other cases, it might be exactly what you need for your face. Cleansing oils help to remove dirt and other grime from the face and skin and tend to be gentler than traditional cleansers, which often contain irritating surfactants. While you can find cleansing oils made specifically for the skin, it is also possible to make your own. Avocado oil is a particularly good oil to use as a facial cleanser because the skin is able to absorb it so well and because it works well when it comes to breaking up dirt and other particles on the face. The oil's antioxidants also offer the skin a bit of pampering and protection. The simplest way to use avocado oil as a cleanser is to apply a small amount of it to a washcloth. Gently rub or wipe the cloth over the face to wash the day away. You can also create your own cleansing concoction with avocado oil, honey, and castile soap — such as Dr. Bronner's. To do so, combine 1/2 cup avocado oil with two tablespoons castile soap and three tablespoons of honey. Massage a small amount of the cleanser into damp skin, then rinse away.
Unconventional Uses for Avocado Oil Around the Home
Along with helping your skin and hair, avocado oil has a few uses around the house.
1. Fix a Squeaky Door
If the hinge of a door in your home makes a loud "squeak" every time someone opens it, and that sound is bugging you, you do not need to track down a particular lubricant or spray to silence the squeak. Avocado oil will do the job for you. To use the oil on a door hinge, place a few drops of it right on the hinge. Open and close the door a few times so that the oil makes it way all through the hinge. Eventually, the oil should provide enough cushion in the hinge that it stops making noise.
2. Oil Your Shoes/Boots
Avocado oil is also a great leather conditioner. Without the proper care, leather will dry out and look worse for wear over time. If you are going to use a bit of avocado oil to condition leather boots or shoes, it's a good idea to clean them first, to get rid of any dirt and to help the oil better condition the leather. Once the shoes are clean, pour a small amount of oil onto a soft cloth. Then using circular motions, rub the oil into the leather. Wipe away any excess oil. You can also use avocado oil to condition other types of leather goods, such as purses and furniture.
3. Oil Your Tools
Applying a bit of oil to metal tools, including saws and knives, can help protect them from rust. Before you oil your tools, give them a good cleaning to remove any rust or dirt. Then, soak a cloth with a bit of avocado oil and rub it into the metal part of the tool, such as the blades. Wipe away any excess oil before storing. You can also place freshly oiled tools in a bucket of sand to further protect them from rust and ruin.
4. Diaper Rash Ointment
If you are trying to avoid using non-natural products on your infant, avocado oil can be a great alternative to traditional diaper rash creams. Rub a small amount of the oil into the irritated area to help soothe it.
5. DIY Reed Diffuser
Reed diffusers can help to add a lovely scent to your home, but they can be pricey, or you might not find one in a scent you enjoy. One option is to make your own, using avocado oil and other common household ingredients. There are a few things to keep in mind when choosing materials for your diffuser. One is to make sure you pick a glass bottle that has a narrow opening. A wide-mouth jar will cause the oil to evaporate more quickly, and the scent will not last as long. To make the scented oil, use a ratio of three parts essential oils — use your favorite scents — to seven parts avocado oil. Pour the oil mixture into the bottom of a glass container, then place several reed diffusers sticks into the container. Let the reeds absorb the oil, then flip them over and put the other ends into the oil. You can make extra scented oil and store it in a sealed container for easy refills once the initial batch of oil evaporates away.
Choosing an Avocado Oil
With so many uses, both in the kitchen and beyond, there is no reason not to welcome avocado oil into your home. When choosing an avocado oil, look for one that is expeller pressed and sold in an opaque tin, as it is essential to protect the oil from sun and light exposure. La Tourangelle – Artisan oils produces avocado oil that is hand-crafted and made using the highest quality avocados. of our avocado oil, and other artisan oils, and see for yourself what they can do. Look for them on store shelves.