Sustainability as a tradition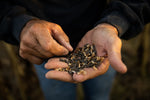 Sustainable Sourcing
La Tourangelle is committed to promoting sustainable , organic, and regenerative farming technics.
All our nut oils are made from locally sourced California nuts. We upcycle ugly and rejected walnuts, almonds, pistachios and hazelnuts. We turn left behind nuts into delicious oils!
We have created the first organic & regenerative oilseed program in California starting with sunflower and flax. Regenerative farming reverses climate change by rebuilding the soil health and ecosystem. Terroir is a core value of French gastronomy.
Our organic extra virgin olive oils are cold pressed in the largest natural park in Spain. We work with a coop of farmers having pioneered the cultivation of organic olives in Europe. Our single origin EVOOs have naturally high level of antioxidants thanks to the rich mountainous terroir they grow in.
Our avocado oils are actually green and delicious so that to retain all their nutrients. Made with virgin avocado oil, we are now starting a new oil mill in Lima, Peru to upcycle ugly and small avocados rejected from the export markets. This project is run in partnership with Amazon Health Products, a local fair trade and organic seed company.
Our sesame oils, grapeseed oils, pumpkin oils and other oils are all expeller pressed and Non GMO. We stand behind the exceptional quality of each batch of oil we sell.
Low Impact Packaging
La Tourangelle uses post-consumer recycled waste on plastic packaging. We also utilize tin cans, not only to protect our oils from sunlight damage, but because they are also light, efficient to ship, and recyclable. You won't find any propellant, alcohol or GMO oils in our cooking sprays. We use a bag-in-valve technology to ensure that no chemicals are being propelled into the atmosphere or on your food!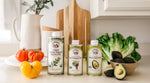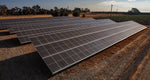 Solar Powered Unique Oil Making
Our unique oil making operations bring together the best of tradition and modernity. On one side of the plant, we use century old cast iron hydraulic presses and custom made kettles to roast and press nut oils. In the middle, we run a stainless steel-20-short-head cold press to make virgin organic seed oils. On the other, we operate a unique molecular distillation unit to physically refine oils. This highly accurate process involves lightly warming up the oils under tremendous vacuum to remove contaminants and free fatty acids. Free of any chemicals. All that powered by our own 350 KWH solar farm. Pretty cool!
Community Gardening
The La Tourangelle Foundation is proud to support Yolo Farm to Fork, a non-profit organization that is doing an incredible job to improve young people's health through edible gardens. Our goal is to find and subsidize more local organizations that work towards educating young people on the importance of healthy eating habits.