We make high quality oils packed in beautiful tins
We are passionate about pressing the best oils. Our products are made with virgin oils - rich in flavors & nutrients - always non-GMO and made with care. We define good food as good for the table, the community and the planet.

Our natural products are crafted locally in Woodland, California and Saumur, France using traditional practices. When importing oils from overseas, we carefully select like-minded oil makers and always pack the oil ourselves. We operate 2 world-class oil laboratories equipped with the most sophisticated testing protocols to ensure oil quality and authenticity.
From sourcing the best quality ingredients to small-batch production, our products are rooted in artisan know-how. We believe in making products that are authentic, delicious, and sustainable. Through regenerative farming, artisan production methods and recyclable packaging, we want to empower people to cook like they care.

Born in 1867 in France Loire Valley
For hundreds of years along the Loire River, small artisan oil mills have roasted and extracted the oil from nuts & seeds gathered by local farmers. La Tourangelle is one of just a handful of these remaining mills that keep this tradition alive.
In the early 1990s, the Kohlmeyer family acquired a small French mill, and La Tourangelle entered a renaissance phase with international expansion fueled by awards and a passion for making specialty oils. In 2002, the second eldest son, Matthieu, reinvented the brand and moved to Northern California to recreate his family's French artisan oil mill.
French Art de Vivre Meets California Living
In California, our oil mill is located on a 28-acre property planted with 10,000 olive trees and powered by a 350 KWH solar farm. Through the La Tourangelle Foundation, we operate a 1-acre community garden running a free & robust educational program for local schools. 2023 will mark our 20th year of oil pressing in California!
Today La Tourangelle is a celebrated oil maker famous for its unique tin packaging and loved by foodies and professional chefs alike. Our team brings together over 100 oil making and CPG experts across France and California.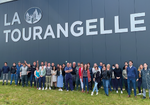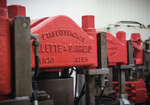 Artisan Oils Experts
La Tourangelle was originally founded to roast our own walnut oil, and we proudly carry on this tradition in France and California today with additional nut oils. The highest quality nuts are selected, hand-roasted in cast iron kettles, mechanically pressed with a hydraulic press, and lightly filtered. These elegant oils each have their own unique flavors and the careful extraction process means all the oil soluble nutrients naturally present in the nuts.
From this humble beginning, La Tourangelle has greatly expanded its collection to include all the best oils a sophisticated cook needs. From our organic extra-virgin olive oils to our avocado oils, all our oils are made following the same strict adherence to high quality standards and a passion for excellence. We are true oils experts- no venture money or phony games here.