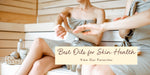 You want to look and feel your best, and a skin care routine can be one way to achieve that. You may even want to indulge in the occasional pleasurable treatment that refreshes your complexion. Whichever method is for you, some of the best oils for skin health will help you treat yourself and your skin.
Before you apply various skin care treatments to your face and body, learn about the best natural oils for the skin and when to apply face oil. These and other suggestions will help guide your skin care routine.
Oils for Your Skin
With so many oils available, you want to find the best for your body. Different products have varying components that uniquely benefit the skin, so a bit of research into the best oils for your skin will help you decide what could be right for you.
You should also consider refined versus unrefined, or virgin, oils. Refined oils are often unscented, having gone through additional processing. That quality makes refined products suitable carrier oils, which people use to dilute essential oils for their skin care routines. You may also wish to use a refined oil without added scents for a simple skin care solution.
Remember to consult your dermatologist before using oils for your skin, especially if you have any allergies, and stop using these products on your skin if you notice any persisting problems, like redness or itching. Do a spot test if you have sensitive skin or other concerns to see if you have a reaction. Using the best oils for skin health safely can help improve your skin's look and feel, though, so it is worth considering these products.
1. Coconut Oil
Coconut oil is solid at room temperature in contrast to other oils, which makes it a convenient addition to your skin care routine. According to Dr. Laurel Naversen Geraghty, a board-certified dermatologist, coconut oil is among the best oils for your skin because it can:
Hydrate the skin
Reduce itching
Alleviate dryness
Soothe rashes, including eczema
Reduce germs that live on the skin
Coconut oil may be one of the best oils for your body. However, because it can clog pores, you should use it on areas like your hands and arms instead of on your face or other breakout-prone areas.
2. Grapeseed Oil
Grapeseed oil has anti-inflammatory and antioxidant properties. Along with vitamin E, the components in grapeseed oil make it the best oil for some to use on their skin. It is especially popular for those looking to improve the softness and elasticity of their skin. For the look of firmer skin and improved skin texture, this oil could be a good choice for you.
Grapeseed is a noncomedogenic oil, meaning it does not block the pores and can be better to use on your face or other acne-prone areas. You can even consume grapeseed oil for skin benefits, as it can reduce the appearance of hyperpigmentation. For the best results, choose a grapeseed oil that is expeller-pressed and free of chemicals.
3. Almond Oil
Almond oil is a versatile oil that provides many benefits for some. Remember that this is a nut oil, so those with allergies should avoid using almond oil in their skin care routine. For those who can use almond oil, know that this product contains health benefits and components that are good for your body and skin, such as:
Vitamin A
Vitamin E
Copper
Magnesium
Phosphorus
Antioxidants
Omega-3 fatty acids
Many of these components work better from the inside, but vitamins A and E make almond oil one of the best natural oils for skin. Almond oil has specific benefits for the skin that include the potential to:
Treat eczema, psoriasis and acne
Improve complexion and tone
Balance moisture absorption
Prevent fungal growth or infections
Heal sun damage
Reduce scars
Minimize signs of aging
With all these benefits also comes the convenience that the skin often quickly absorbs almond oil. If you have tried other oils for your body in the past and found them to be too greasy, try a small amount of almond oil instead. It makes an ideal facial cleanser for many people, and it is an excellent way to remove makeup while moisturizing your face.
4. Avocado Oil
Avocado oil can be an ideal skin treatment for those with dry skin. This oil contains anti-inflammatory properties and antioxidants, which may promote skin elasticity and improve skin texture. While avocado oil may be suitable for some with acne-prone skin, it can still clog pores, so spot-test the oil or use it with caution. If it is suitable for your skin, you might gain these benefits from using avocado oil for skin care, including:
Soothing itchy skin
Replenishing dry skin
Relieving and healing chapped skin
Moisturizing the skin
Using this oil for your skin will not leave a greasy feeling, but because of its moisturizing properties, those with oily skin should select another natural oil to use. Some also use avocado oil as a means to protect the skin from UV rays. With vitamins A, D and E, proteins and beta carotene, avocado oil might help protect your skin from the sun.
How and When to Apply Face Oil
No matter which of the best natural oils for your skin you choose, it helps to know how to apply it, especially if you have not used oils to moisturize and clean your skin before. Follow these tips on how to apply face oil to feel comfortable and likely see results.
Pat a couple of drops of oil into your skin: Using a small amount helps the oil absorb into your skin quickly, which is ideal if you feel applying face oil is too greasy for your skin.
Apply the oil where you need it: Find problematic areas of your skin that are red, dry or in need of moisturizer. Focus on those areas when you apply face oil to get the most out of your product and avoid feeling too oily.
Combine it with other products: Moisturizers or serums you use on your skin could provide more benefits with an added oil, depending on your skin concerns and the ingredients in your other products.
Use it for oil cleansing: It might seem counterintuitive to cleanse your skin with oil. However, these products contain vitamins and nutrients that help protect your skin's lipid layer. Massage the oil into your face, then gently wipe it away with a warm, wet washcloth.
Those tips will help you achieve the benefits of these products, but you also need to know when to apply face oil. That could depend on your skin, the type of oil you are using and other concerns. Grapeseed is an ideal option if applying oil on your face at night, though nighttime application of any oil will be useful if you are looking for a simple addition to your skin care routine.
Applying oil on your face at night can help it absorb without mingling with makeup or environmental factors. You want to moisturize your face and protect it, and the best natural oil for a face moisturizer and other areas of your skin will help prevent overnight dryness.
Other Uses of the Best Oils for Your Skin
If you do not want to use oils on your face, but want to incorporate them into your beauty routine in other ways, there are additional possibilities. Along with using them to moisturize areas like your arms or legs, you could add oils to other parts of your routine.
Make a sugar scrub with your oil of choice, such as coconut and olive oil. If using coconut oil, use a 1-to-1 ratio of oil to sugar, and with olive oil or another liquid oil, use half the amount of oil to sugar. Adjust the amounts as needed to create a looser or more solid scrub. Sugar scrubs work well for the lips and other dry areas of skin that you would like to exfoliate. Remember to moisturize after exfoliating to retain a soft look and feel to your skin.
Many oils that are good for your skin are also beneficial for your hair. If you purchase the best natural oils for your skin, see the advantages they can have for the rest of your body and consider using them as hair treatments. Some consider the above oils to be the best for your skin and hair:
Incorporating natural oils into your skin and hair care routines could be a great way to get as many benefits from a product as you can. As a bonus, many natural oils are also beneficial to your health when consumed, giving you even more uses for your products.
Purchase the Best Oils for Your Skin From La Tourangelle
If you would like to try the top oils for skin health, get high-quality products from La Tourangelle. At La Tourangelle, we have kept the artisan oil process alive throughout generations. We believe in integrity and innovation, and our dedication lies in creating oils with traditional and natural methods. Thanks to our expeller-pressed process, our oils do not contain chemicals, making them better options for your skin and your cooking.
Explore our artisan oils today, whether you are seeking skin care options or to make more balanced choices in what you eat. Trust La Tourangelle for natural products that bring plenty of benefits to your health and your skin.