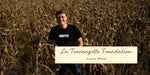 Growing the Next Generation
Since the 1960's, childhood obesity has become a growing public health issue and has reached epidemic proportions in the United States. As such, there is an urgency to transform children's relationship with food in the US.
At La Tourangelle, we are strong believers that teaching students how to grow and maintain edible gardens is one of the best ways to implement better habits, better health and better communities. Studies show that gardeners consume more vegetables and eat a better, balanced diet. Educational experiences in the garden need to take place early in the childhood in order to have a stronger impact and instill real change in the habits of the next generation.
The La Tourangelle Foundation is proud to support
Yolo Farm to Fork
, a non-profit organization that is doing an incredible job to improve young people's health through edible gardens. Our goal is to find and subsidize more local organizations that work towards educating young people on the importance of healthy eating habits. If you want to apply, please contact Christine at
christine@latourangelle.com
.
Creating Our First Regenerative Garden
Soil degradation poses a threat to more than 40% of the Earth's land surfaces and climate disruption is only accelerating the process. This has disastrous consequences for food security and family farmers. One solution is to increase the reabsorption of CO2 in the soil year over year, as global soil contains 2 to 3 times more carbon than the atmosphere. For the health of our planet, we need to implement agricultural practices that restore the organic matter of the soils.
The La Tourangelle Foundation dedicates 1 acre of its land to create a regenerative edible garden for its employees, local schools, and the surrounding community at large. We use our edible garden and beehives as a platform to educate students in our community about the value of regenerative agriculture.
Supporting Local Food Banks
There is a sudden and growing urgency to put our energy and resources into helping food banks distribute food to millions of food insecure US residents.
A few numbers about hunger in US: According to the Economic Research Service, 10.5% of U.S. households were food insecure -- defined as a lack of consistent access to enough food for an active, healthy life -- at least some time during the year 2019, including 4.1% that experienced very low food security. This number skyrocketed due to the pandemic, and some estimates found that in late June, 27.5% of households with children were food insecure. SNAP, the largest food assistance program for low-income Americans in the nation, grew by 17% from February to May 2020. Even with the implementation of expanded food aid, the program hasn't managed to meet the nation's food security needs.
Please check back here for updates or subscribe to our newsletter using the form below.