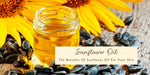 Completing a skin care routine can be a relaxing way to take care of yourself during your day. It is important to take special care of your skin, but you may wonder which beauty products are best to use. Countless skin care products are available, and each serves a different purpose. One product you may want to consider adding to your routine is sunflower oil for skin. It provides multiple health benefits and keeps your skin looking beautiful. Learn more about sunflower oil benefits for skin. 
What Is Sunflower Oil?
Sunflower oil is produced by pressing the seeds of a plant called Helianthus annuus. It is high in linoleic or oleic acid, which are sources of energy for the body. 
There are four types of sunflower oil — high oleic, mid oleic, high linoleic, and high stearic and high oleic. They are differentiated based on the levels of fat types they are made of. For example, polyunsaturated fats are equated to linoleic acids. Monounsaturated fats are equated to oleic acid. Sunflower oils that contain higher levels of oleic oils are healthier. 
Helpful Vitamins and Substances Found in Sunflower Oil 
Sunflower oil offers plenty of health benefits and contains substances that can positively impact your skin health. A major component of sunflower oil is vitamin E. Sunflower oil contains more vitamin E than other vegetable oils. 
Vitamin E is an antioxidant that is essential for maintaining healthy skin. Antioxidants help donate electrons to free radical atoms to help stabilize them. If not stabilized, these atoms can cause damage over time, leading to health issues such as heart disease or lung cancer. The vitamin E in sunflower oil may also provide anti-inflammatory benefits for your skin. 
Sunflower oil contains other helpful substances, such as omega-6 and omega-9, or linoleic acid and oleic acid. These substances are both shown to contribute to tissue and cell strength. 
Sunflower Oil Skin Benefits
The vitamin E in sunflower oil has antioxidants that help with premature aging and wrinkles, keeping your skin looking young and fresh. Sunflower oil also contains linoleic acid, which helps your skin retain moisture so it becomes less dry. Reinforcing this natural moisture barrier is especially helpful for those with eczema or otherwise dry skin. In addition, linoleic acid helps to protect the face from bacteria and germs. 
Along with keeping your skin moisturized and wrinkle-free, the sunflower oil benefits for skin include:
It leaves pores unclogged:

 

Sunflower oil is highly absorbent and non-comedogenic. This means it will not clog your pores, and it is well-suited for various skin types — including acne-prone, dry, normal and oily.
It offers sun protection:

 

Antioxidants like vitamin E help protect your skin from wrinkles and negative effects from sun exposure.
It helps heal wounds:

 

Sunflower oil has been shown to help aid wounds in healing faster, though more research is needed to explore this effect.
How to Use Sunflower Oil in Your Skin Care Routine
You may be wondering how to apply sunflower oil when using it for your face and skin. Here are some steps for how to easily incorporate sunflower oil into your daily routine:
Put a small amount of sunflower oil into your hand. A small eyedropper may be helpful to grab the right amount.
Gently massage the oil into your skin.
Focus on areas that are dry, red or in need of moisture.
Avoid your eyes when you are applying the oil to your face.
Wipe away from your face with a warm washcloth.
If you would prefer, you can mix sunflower oil with an essential oil before application. This can enhance the oil's skin benefits and add a pleasant scent to the mixture.
How to Store Sunflower Oil
To preserve sunflower oil's beneficial properties, make sure to store it properly. The first thing to consider is the temperature you are keeping it at. The ideal storage place for sunflower oil is in a cool area, like in an under-sink cabinet or bathroom cupboard. Another thing to keep in mind is to keep the oil away from direct sunlight. You do not want sunlight to damage any of your skin care products. If there are windows near your storage location, ensure the oil is kept out of the light and heat.
Make sure to keep track of expiration dates on the bottle. If the product is expired, it may contain harmful substances. Most oils cannot be stored longer than a few months after opening. When storing the oil, keep it in a glass bottle to limit the influence of external substances. Before using, pour the oil into a dark glass bottle to preserve helpful vitamins and minerals.
Other Oils to Consider for Skin Care
Sunflower oil is not the only oil that can provide skin care benefits. Below are some other oils to consider adding to your skin care routine: 
 Shop High-Quality Oils From La Tourangelle
Consider using sunflower oil for your skin care routine to get natural benefits, such as moisturizing your skin, preventing wrinkles and fighting against harmful toxins. To maximize the quality of your routine, select sunflower oil made from responsibly grown and carefully selected ingredients. La Tourangelle offers naturally made specialty artisan oils that can be used as part of your beauty routine. 
We are a family-owned business and are dedicated to producing natural products with our French-inspired techniques. We encourage innovation and experimentation by providing a broad range of products to elevate the eating experience. If you would like to experiment with high-quality oils in the kitchen, we offer options that incorporate seamlessly with a variety of meals and dietary restrictions. Browse our recipes for inspiration for all the delicious meals you can create. 
Our products are conveniently located at your local Whole Foods, Sprouts, Publix and other retailers. If you have any questions about our products, you can contact us today.