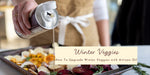 Winter may be known for cold, gray days however, it offers up some surprisingly vibrant veggies. From beets and red cabbage to Brussels sprouts, and kale, there's no shortage of ways to paint the rainbow on your plate. The trick is making them fun and tasty. 
Here are a few creative ideas for bringing out the best in 4 winter superfoods:
Beets
Nutrition: Beets are a rich source of vitamin C, folate, potassium and fiber, which support immune function, cell division, blood pressure control, and satiety, among other things. In addition, beets contain betalain, a group of phytonutrients that may help combat inflammation and promote vascular health [1].
Flavoring tips: Walnut oil pairs particularly well with beets and contrasts their naturally sweet flavor. Toss beets in walnut oil before roasting or finish a beet salad with walnut oil-based dressing like this one. Beets also go well with salty cheeses, oranges, and tarragon.
Winter Squash (such as butternut, acorn, delicata)
Nutrition: Winter squash is best known for being a rich source of vitamin A, however, it also contains vitamin C, vitamin E, B-vitamins, magnesium, potassium, and manganese. These nutrients are involved in everything from metabolism to bone health, and muscle function. Winter squash is a starchy vegetable and also provides carbohydrates, the preferred fuel of the brain and working muscles. 
Flavoring tips: Grapeseed oil enhances the natural flavor of winter squash and assists with the absorption of vitamin A and carotenoids - compounds that may help protect vision [2]. Sage, cinnamon, nutmeg, and allspice, also go well with winter squash. 
Kale
Nutrition: Kale is a non-starchy nutrient powerhouse, with 1 cup of kale offering more than 100% of the daily recommendation for vitamin A, C, and K. As a member of the cruciferous family, kale also contains glucosinolates which have been shown to help curb inflammation and deactivate carcinogens in lab studies [3].
Flavoring tips: Massaging kale with oils like garlic oil or grapeseed oil, and lemon juice can help remove the woodiness of raw kale, boost flavor, and improve the absorption of fat-soluble nutrients such as vitamin A, vitamin K, and carotenoids. Onions, and thyme also go well with kale, especially when it's cooked. 
Carrots
Nutrition: Like other orange veggies, carrots are packed with vitamin A and carotenoids, which support vision, immunity, and cell division. A cup of carrots is also a good source of fiber, vitamin C, vitamin K, and potassium - nutrients that support normal blood clotting, cholesterol control and more. 
Flavoring tips: Cooked and raw carrots lend well to Asian seasonings such as sesame oil, ginger, and garlic. Alternatively, try roasting carrots with warming, winter ingredients such as cinnamon, cumin, maple syrup, orange juice and/ or thyme.
A little creativity goes a long way with veggies, especially in the winter when the range of fresh produce is smaller. Don't be afraid to experiment with new prep methods and seasonings, including oils! Every extra serving of veggies matters. 
Edwina Clark, MS, RD, APD (Aus), CSSD
Edwina is a nationally-recognized dietitian and wellness expert, dually credentialed in Australia and the US. She has worked for several early-stage businesses as a nutrition consultant, content creator, and brand spokesperson, and has been featured on sites such as TIME, Women's Health, SELF, and Shape, among others. In her free time, you can find Edwina blogging on edwinaclark.com, running, and planning her next travel adventure.
References:
[1] Clifford T, Howatson G, West DJ, Stevenson EJ. The potential benefits of red beetroot supplementation in health and disease. Nutrients. 2015;7(4):2801–2822. Published 2015 Apr 14. doi:10.3390/nu7042801
[2] Jia YP, Sun L, Yu HS, et al. The Pharmacological Effects of Lutein and Zeaxanthin on Visual Disorders and Cognition Diseases. Molecules. 2017;22(4):610. Published 2017 Apr 20. doi:10.3390/molecules22040610
[3] Soundararajan P, Kim JS. Anti-Carcinogenic Glucosinolates in Cruciferous Vegetables and Their Antagonistic Effects on Prevention of Cancers. Molecules. 2018;23(11):2983. Published 2018 Nov 15. doi:10.3390/molecules23112983