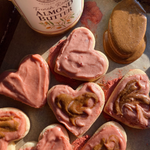 Celebrate Valentine's Day or spread love any day with these adorable and healthy heart shaped cookies. Made with almond butter and fats that help lower the risk of cardiovascular disease and maintain stable levels of blood sugar and cholesterol.  Keeping your loved ones happy and healthy!
---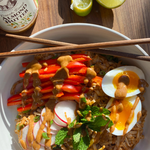 This Asian-inspired noodle bowl is healthy, quick, and delicious! The tender rice noodles, fresh vegetables, soft-boiled eggs, and show-stopping almond butter sauce all come together to make the perfect meal. The star of the dish is the creamy and nutty sauce, a flavor explosion that combines the richness of our French Roasted Almond Butter with savory spices and tangy rice vinegar. 
---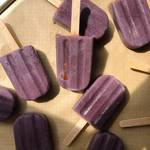 These very berry blueberry smoothie pops from Rileigh are refreshing and nutritiously nutty with a swirl of La Tourangelle French Roast Almond Butter. Perfect as a quick breakfast or snack.