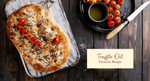 Next time you want to add some classic Italian flavor to your kitchen, try this delicious oven-baked focaccia brushed with Black Truffle Infused Oil. Enjoy this golden, spongy bread as a beautiful appetizer or side dish with friends and family. It pairs well with stew, soups and sandwiches, and the artisan Black Truffle Oil adds flavors of woods and earth to make your focaccia bread a unique taste experience all on its own. 
Focaccia has been around for centuries, starting with chefs baking grains like millet and barley over hot coals. Today, our techniques use bread flour for a simpler, more finely tuned approach. 
Ingredients
Start by gathering these ingredients for your focaccia recipe:
4 ¾ cups of white bread flour
1 tablespoon of quick-rise dry yeast
2 cups of water, heated to between 85 and 95 F
4 tablespoons of extra virgin olive oil
2 tablespoons of

 

La Tourangelle Black Truffle Infused Oil
1 tablespoon of cracked black pepper
2 teaspoons of salt
2 teaspoons of coarse sea salt for garnish
1 tablespoon of chopped thyme
2 teaspoons of chopped rosemary
Preparing the Dough
For this truffle oil focaccia, you prepare the dough one hour before baking. If possible, use a mixer with a dough hook to make the process fast and easy. 
In your mixing bowl, combine the yeast and warm water. Wait a few minutes and give the yeast a chance to foam.
Add in 3 tablespoons of olive oil, 2 tablespoons of truffle infused oil, 1 tablespoon of cracked pepper and 2 teaspoons of salt.
Gradually stir in the flour and mix until you have a soft, sticky dough. Shape your dough into a ball with your hands.   
Oil a large separate bowl and place the dough in this container. Cover the bowl with plastic wrap and set it somewhere warm to rise for around 45 minutes, or until its volume doubles.
Ready for the Oven 
Once your dough has risen, follow these next steps for making your truffle oil infused focaccia. 
Heat your oven to 450

°F.

Lightly oil a 15-inch by 10-inch baking sheet, making sure to coat the whole surface.
Add the dough, gently shaping it to the edges of the pan.
Press your fingertips into the dough, making round circles or dimple shapes. 
Apply 1 tablespoon of olive oil to the top of the dough. Add the coarse sea salt, fresh thyme and fresh rosemary. 
Loosely cover your pan and place it in a warm area for 15 minutes so it can continue to rise. 
Remove the cover. Bake the focaccia on your oven's center rack for about 30 minutes or until it takes on a rich golden brown.
Serve Warm
Focaccia is best served warm while its pillowy center feels spongy and the textured top layer provides a satisfying crunch. This bread's air pockets are perfect for allowing the truffle oil to seep through and infuse it with rich flavor. 
Enjoy sharing this artisan focaccia bread recipe at home with loved ones!