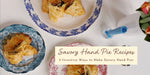 No one can resist a warm pocket of savory filling wrapped in a flaky, buttery crust. Hand pies are the perfect on-the-go meal to share with friends and family. For a potluck, road trip, lunch, or dinner, these versatile pastries are delicious to even the pickiest of eaters!
We've partnered up with James Kicinsky-McCoy, Founder and Editor-in-Chief of The Bleu, to create three super-simple recipes that are packed with healthy, perfectly-paired ingredients. Follow along to learn how to make three variations of savory vegetarian hand pies.
Start With the Crust
First, you're going to need to make the crust. James's easy crust recipe pulses together flour, sugar, and salt before separating the dough into three disks. Each disk will be enough to yield four hand pies for each of the filling recipes: Pistachio, Pear, and Goat Cheese; Pumpkin Squash, Cranberry, and Kale; and Truffle, Leek, and Potato.
After the filling is spooned into the crust dough, you can fold the hand pies into half-moons and slice three small vents on top of each pie. Pro tip: choose a different pattern for each pie filling so you can tell which is which!
Don't forget to brush the pies with egg wash or almond milk to give it a shiny, golden-brown finish once it's finished baking in the oven.
1. Pistachio, Pear, and Goat Cheese Filling
Our first filling recipe has all of the flavors of a charcuterie board baked into a warm hand pie.
Caramelize red onion, then add cubed pears, roughly chopped pistachios, and crumbled goat cheese to a bowl. Season with salt and pepper.
A drizzle of La Tourangelle's Roasted Pistachio Oil lends a nutty flavor to the warm pears and caramelized onions. Roasted nut oil completes the dish, adding layers of pistachio flavor to this crumbly pastry.
Mixed with creamy goat cheese and baked to perfection, these cheesy and comforting hand pies will make an excellent addition to your dinner table.
2. Pumpkin Squash, Cranberry, and Kale Filling
If you have autumn nostalgia year-round, we have the perfect recipe for you. This next recipe will bring you right back to the coziness of fall in one bite.
Start by coating diced butternut squash with a generous coating of La Tourangelle's Toasted Pumpkin Seed Oil. The toasty, nutty aroma of the Pumpkin Seed Oil turns this savory pastry into the ultimate comfort food.
Season your butternut squash with salt and pepper to taste, then place your butternut squash in the oven. Bake for 20 minutes or until the squash is tender and golden. Be sure to turn your squash halfway through!
Mix sautéed onions, minced garlic, leafy kale, spices, and dried cranberries in a bowl, then add the roasted squash.
Spoon this heavenly mixture into your pie dough and bake for 25 minutes. For full fall effect, serve hot with a cup of chai tea on the side!
3. Truffle, Leek, and Potato Filling
We've saved the most decadent recipe for last. This hand pie is cheesy and filled with baked baby potatoes, delicate leeks, and thinly sliced baby Bella mushrooms.
Toss sliced baby potatoes in La Tourangelle Extra Virgin Olive Oil to lightly coat and season with salt and pepper. Bake until just golden—about 25 minutes.
Next, sauté your leeks and mushrooms until they are nicely caramelized. In a large bowl, combine with the roasted potatoes and grated Fontina cheese.
The real punch of flavor comes from the last step: a drizzle of La Tourangelle's White Truffle Infused Oil. Earthy and distinctive, the White Truffle Infused Oil marries the mushroom flavor in the filling with the mild leeks and buttery crust.