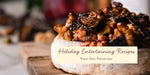 Even die-hard butter devotees admit that olive oil makes exceptionally good cakes. Moist in every bite, this olive oil cake has fresh herbal notes of thyme, the fruitiness of extra virgin olive oil, and a luxurious density from yogurt and honey. It is an effortless assembly for a cake- you'll only need one bowl and a good whisk- that delivers the perfect delight for Sunday brunch or any springtime occasion.
There is nothing like a fabulous piece of carrot cake for dessert. With a subtle blend of warm spices like cinnamon and ginger, this cake has great texture and moist richness. Our Walnut Oil adds depth of flavor and a layer of rich, nutty taste with every bite.
This simple holiday appetizer is sure to please any crowd at your next cocktail party. Warm, gooey Brie cheese is topped with sweet figs, toasted walnuts and a healthy drizzle of Roasted Walnut Oil. Add some rustic crackers or crusty bread, and you are set for a delicious celebration.
Thick pork chops are the perfect palette for autumn flavors such as persimmons, pomegranates and leeks. A blend of serrano chile, smoked paprika, cumin and fresh cilantro adds earthy spice to this dish. Our artisanal Grapeseed Oil will give you just the right amount of sear every time!
This simple vinaigrette elevates any salad to a gourmet side dish. Slowly roasted to perfection, our Walnut Oil adds a rich nutty flavor to an ordinary salad dressing. Drizzle onto mixed greens and gently toss.