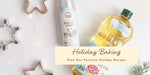 Get ready for the holiday season with these sweet treats! Our holiday cookie recipes are sure to delight your loved ones!
Nothing could be more festive than a tray of these buttery, jam-packed cookies. The combination of sweet raspberry preserves and luscious hazelnuts give this sandwich cookie a flavorful kick. The signature stained-glass-window effect of the top layer makes it one of the most effortless and impressive treats you could make this holiday season.
he inspiration for this recipe started where many great things do – with a cup of coffee! After adding a splash of eggnog to our favorite hazelnut blend, we stumbled upon a flavor combo that was too good not to share. Enter the Hazel-Nog cookie, because why settle for only one amazing festive flavor when you can have two?
Add a layer of flavor to your typical sugar cookies with our Roasted Pistachio Oil.
Snowballs are the perfect holiday cookie. Decadent dark chocolate and Walnut Oil pair together in a rich, flavorful dough. With a generous dusting of powdered sugar, these cookies will delight one and all this season.
Whether you are baking for the holiday season or just looking for something to accompany an afternoon cup of tea, these flavorful biscotti cookies are a winner. Toasted pistachios and creamy white chocolate are combined with our award-winning Pistachio Oil to create a delicious, crunchy treat. Biscotti makes for an excellent gift to share with loved ones!