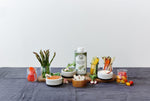 A trio of dipping sauce to enjoy with all kinds of raw vegetables, to spread on bread, to mix in your sandwich or to go with you BBQ veggies. Using La Tourangelle's Extra Virgin Olive will uplift the nutrient quality of your composition.
Romesco sauce: a combined essence of grilled pepper, tomatoes, chile and roasted nuts.
Ailoi: pure Mediterranean sauce with garlic and mayonnaise.
Salsa verde: unique salsa verde with anchovy fillets and cornichons.