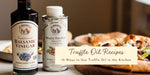 Cooking is an ongoing practice that allows you to develop your skills over time. The hours you spend in the kitchen produce gorgeous dishes and refine your collection of "go-to" recipes. While it is exciting to find your staple dishes, they may become overused or bland over time. Finding ways to add an elevated touch can keep even your most-used recipes fresh and exciting.
Truffle-infused oil is an excellent ingredient to help add a sophisticated touch to your dishes. With a little creativity, you can impart unique flavors in seconds. Here are some tips for how to use truffle oil in your kitchen and some inspiration and truffle oil recipes to help you get started.
What Is Truffle Oil?
Truffle-infused oil — also known as truffle oil — earns its name from the infusion process used during its production. An infused oil starts with a neutral base like sunflower, grapeseed, or olive oil to act as a carrier for the desired flavor. A flavoring agent is then integrated with the base oil to draw out a rich taste. For truffle oil, these flavoring agents are either white or black truffles. 
The flavor and aroma of a truffle are shrouded in mystique — especially if you have never tasted a truffle. Truffles are essentially mushrooms that grow underground. Their rarity and unique flavor make them a fine dining delicacy. It can be difficult to describe the flavor of a truffle, but many use terms like woody, earthy, garlicky and fruity. The flavor is complex and intense, which allows it to add character to a wide variety of dishes. 
White truffle infused oil has a fine-tuned flavor that is well-suited for cooking. Before you begin experimenting with truffle oil, it is important to note it is best used as a finishing oil. Finishing oils are meant to top off and garnish dishes rather than cook them. This is because finishing oils have a low smoke point and can lose their flavor quickly when exposed to intense heat. To experience the fullness of your truffle oil's flavor, add it right before serving and eating. A few tablespoons of oil are all you need to add gourmet flavor with minimal effort.
How to Use Truffle Oil in the Kitchen
Cooking with white truffle oil is as simple as identifying and combining flavors in your recipes. Truffle oil imparts a unique taste, which makes it ideal for dishes that do not already deliver strong flavors. Here are some simple ways you can incorporate white truffle oil in your kitchen.
1. Over Popcorn
Without adding flavorings, popcorn is just about as blank of a canvas as you can get. Traditional salt and butter go a long way to make popcorn crave-worthy, but they do not exactly make popcorn feel gourmet. Adding some white truffle oil to your butter and salt mixture can take this snack to a whole new level.
Simply combine a bit of truffle oil with your melted butter and salt and pour the mixture over the popcorn. This is an extremely simple way to try truffle oil and introduce your guests to new flavors. Whether you are hosting an Oscar-viewing party or relaxing at home, truffle oil popcorn can elevate the way you snack.
Shop La Tourangelle White Truffle Popcorn Spray
2. Over French Fries
Much like pizza, French fries make delectable comfort food. Both homemade and store-bought French fries can benefit from some add-ons. While many turn to cheese, bacon or ketchup, truffle oil can make a classy substitute. When your fries are finished, top them with some freshly grated Parmesan cheese, sea salt and a tablespoon or two of truffle oil.
These French fries surpass classic diner food and pair well with elegant toasted sandwiches and soups. With toppings this delicious, you may even want to make truffle fries your entree!
3. On Top of Pizza
Making pizza at home allows you to transform this comfort food into a high-class dish. Everything from the crust to the types of toppings you use can give your pizza an elevated feel. A bit of truffle oil can instantly upgrade your pie with minimal effort.
White truffle oil works well with recipes for pizza bianca, or white pizza. The lack of tomato sauce reduces the acidity of the dish and allows the truffle oil to take center stage. Drizzle a small amount of truffle oil over the pizza right before you serve a delightful combination of bread, cheese and oil.
View Recipe for Truffle Mushroom and Ricotta Pizza
4. With Eggs
Eggs are a breakfast favorite with seemingly endless versatility. Whether you prefer them scrambled, over easy, in a sandwich, deviled or more, egg recipes with truffle oil always give them an upgrade. The truffle oil imparts a mushroom-like flavor, which complements the existing egg flavor. Drizzle a bit of white truffle oil right before serving for a fancy breakfast, brunch, or dinner meal.
5. Over Pasta
Across all ages, pasta is a beloved entree. Truffle oil pairs well with a variety of pasta styles, from comforting to sophisticated. Common pasta flavors like cheese, mushroom, garlic, and alfredo complement the unique truffle taste. A dash of truffle oil can elevate your pasta to that of a five-star Italian restaurant menu item.
To use truffle oil for pasta dishes, experiment with different combinations of pasta shapes and sauces. Some classic pasta types you may consider using include:
Linguine
Fettuccine
Farfalle
Penne
Rigatoni
Tagliatelle
Your sauce may range from a simple extra virgin olive oil to a savory, cream-based recipe. Whatever you prefer, add a small amount of truffle oil before serving. The oil will provide a unique level of depth and complexity to the pasta flavors. Experiment with truffle oil over macaroni and cheese or a fresh plate of spaghetti to enhance these common favorites.
6. Over Soup
Soups with a focused flavor profile present simplicity at its finest. Common examples of these soups include cauliflower, potato and onion and mushroom soup varieties. These dishes have minimal ingredients for a rich, concentrated flavor.
Truffle oil adds depth to a well-crafted soup, which can further enhance its richness and warmth. Remember to add a small amount of truffle oil to the soup right before you serve to preserve its flavor. Whatever soup recipe you use, a few drops of truffle oil can add instant elegance and sophistication.
7. In a Vinaigrette
Salads are a blank canvas with limitless options to add color and flavors. No matter what greens and toppings you prefer, a vinaigrette dressing can elevate your salad with complex flavors. To take your vinaigrette a step further, add some white truffle oil.
A basic vinaigrette incorporates three ingredient categories:
Three or four parts oil
One part acid, typically vinegar
Seasonings like salt, pepper, Dijon mustard and garlic to taste 
For your vinaigrette, you can follow this truffle oil recipe template using organic extra virgin olive oil and a tablespoon or two of white truffle oil. As long as you adhere to the vinaigrette proportions, you can experiment with seasonings and add-ins to make a dressing that complements your favorite salads.
8. Over Roasted Potatoes
For a potato alternative that is healthier than fries, consider some roasted potatoes. Choose a potato with a thin skin and an even starch-to-wax ratio for the best results. Yukon Gold potatoes tend to hold their shape well and provide a silky interior when roasted.
This classic side does not require much to stand out. Top your potatoes with salt, oil, and some herbs for a simple and delicious dish. Truffle oil gives the roasted potatoes an earthy flavor with depth. Serve them alongside vegetables and meat for a well-rounded, flavorful meal.
View Recipe for Truffle, Leek, and Potato Hand Pies
9. As a Bread Garnish
Bread is a quintessential staple for a meal of any caliber. Its subtle flavors are irresistible by themselves, but they also make an excellent canvas for add-ons. Whether you bake your bread at home or purchase it, adding truffle oil can take it to the next level.
Consider enjoying a bit of truffle oil on some of these bread types:
Toast
Bruschetta
Garlic bread
Focaccia
Baguettes
Pita
Naan
10. Over Risotto
Risotto is a creamy, comforting Italian rice dish made from rice, broth, and aromatics. This dish has a comfort-food flavor with a rich and elegant appearance. Imagine the familiarity of macaroni and cheese with the high-end connotations of homemade pasta, and that is risotto's niche.
A slow cooking process draws out rice starches to give risotto a velvety sauce. It comes together slowly, and the creamy taste reflects the effort put into the cooking process. Risotto is best served straight from the stove, which provides the perfect opportunity to use truffle oil. Add a bit of the oil at the end of your process to impart a mushroom-like depth that enhances your hard work.
11. Drizzled Over Fish
Whether you grill, bake, or pan sear your fish, seafood makes a delicious and lean meal. The type of fish you cook will determine what kind of flavor profile your meal takes on. For example, mild fish like cod and tilapia have less of a "fishy" taste, whereas salmon and tuna have a more full-bodied seafood taste. 
Truffle oil complements all kinds of fish flavors. When drizzled over mild fish, the truffle oil's flavor shines through without the need for a variety of herbs or lemon juice. On top of more flavorful fish, truffle oil can add depth and a unique flair. Either way, you can get creative with your truffle oil and fish combinations to find the pairing you love the most. Use a tablespoon or two of white truffle oil over the fish right before serving for maximum flavor.
12. In a Bean Dip
For many, bean dip conjures images of nachos and game day. Using white truffle oil in your bean dip can transform it into an elegant dinner side. A white bean dip with garlic notes pairs exceptionally well with white truffle oil. 
Prepare your favorite bean dip recipe with cannellini or other white beans and some white truffle oil. To elevate the dish, plate and serve the dip with an array of crackers, small toast or pita chips. Add a garnish and a few drops of oil on top of the dip for a subtle yet stunning presentation.
13. With Vegetables
On their own, vegetables can quickly become bland. Salt and pepper can only do so much before you are tired of eating the same greens over and over. Whether you roast, grill, or boil your veggies, truffle oil can add a flavor unlike anything you have tried.
Use your favorite cooking method to prepare your vegetables, and then sprinkle some salt and truffle oil on top. You can keep it simple with one type of vegetable or mix it up with an assortment of favorites. When you pair truffle oil vegetables with savory meat, your plate will be bursting with flavor and intrigue.
14. In Hummus
Hummus is a spread that is versatile enough to serve for game day or for a dinner party. Its unique flavor comes from its ingredients — primarily chickpeas and tahini. Different hummus types may also incorporate garlic or roasted red pepper for added flavor.
To take your dip to the next level, mix some truffle oil into your hummus. Whether the hummus is store-bought or homemade, a few teaspoons mixed in and a drizzle on top can complement the existing flavors. Keep your hummus room temperature or refrigerate to preserve the truffle flavors longer. Serve with your favorite pita or blue corn chips to enjoy a classic dip with a classy twist.
15. Alongside Mushroom Flavors
As you may have noticed, many of the recommendations in this list highlight mushroom flavors. Truffles are a form of mushroom, and their flavor is hard to explain. However, for many people, it emulates and heightens the taste of mushrooms. In dishes where you use mushroom, try experimenting with truffle oil.
Consider some of the following dishes as well as your own ideas to use truffle oil in:
Mushroom soup
Beef stroganoff
Omelets with mushrooms
Chicken marsala
Casseroles with cream of mushroom soup
Stuffed mushrooms
Take a small portion of the dish and test the oil first. If the truffle oil adds the depth and character, you are looking for, add a bit to the whole dish before serving. White truffle oil uses are endless, which opens the door to a world of new culinary opportunities. Feel free to experiment and transform some of your favorite dishes into gourmet upgrades.
Start Creating with La Tourangelle White Truffle Oil
Craft Sophisticated Dishes With La Tourangelle Truffle Oil
La Tourangelle's White Truffle Infused Oil adds an artisan touch to your dishes. With distinctive notes of the Italian White Alba truffle, our oil has an earthy and exquisite flavor. We believe the best tastes you forge in the kitchen come from high-quality ingredients. Toward this end, we source our ingredients with integrity to provide natural and sustainable products. We value the expertise and excellence offered by traditional artisan oil-making, which is why every La Tourangelle artisan oil is made with authentic and natural methods.
Exercising creativity in the kitchen is key to growing as a cook. As you learn, it is natural to seek new methods and higher quality ingredients to improve your dishes. With our truffle infused oil, you can experiment and elevate your cooking. For other simple ways to add class to your dishes, browse our full line of infused oils. To add even more artisan oil products to your kitchen, shop our full range of products today.