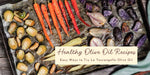 Living and eating healthy may seem like you need an entirely new pantry selection. The truth is, it only takes a few ingredients to boost your meals and your system. With extra-virgin olive oil, you can find new ways to enjoy a delicious and healthy meal. 
La Tourangelle olive oil can inspire your kitchen with incredible flavor and health benefits. Our extra-virgin olive oil is filled with antioxidants, vitamins and fatty acids, making it one of our healthiest products. Olive oil fights inflammation with its rich oleic acid content and can reduce the risk of heart disease. 
Living a healthy lifestyle can mean something different for everyone, and the kitchen is a great place to start. A plate of your favorite nutritious foods topped or cooked with olive oil is already a delicious step in the right direction. Our olive oil recipes are loaded with nutritious benefits for you and your family to enjoy. Here are seven of our favorite healthy olive oil recipes.
Spatchcock Grilled Chicken With Scapes and Garden Herb Sauce
Enjoy the divine taste of a brick-grilled chicken breast when you try this recipe. Its simplicity allows for an easy meal filled with protein and vitamins. Chicken breast is lean meat, which has a high value in protein that can strengthen your muscles and boost your metabolism. Prepare the chicken with drizzled olive oil, salt, pepper and squeezed lemons to create a simply delicious meat dish.
Another unique aspect of this recipe is the garlic scapes. Though most kitchens are familiar with garlic cloves, many have yet to taste the mild flavor of scapes. Like olive oil, garlic scapes are rich in antioxidants. They can protect against osteoarthritis and prevent an oxidation process that leads to liver damage.
One-Pan Vegetables
Sheet pan dinners are a deliciously simple creation for you to enjoy as a quick meal or side dish. Though you can use about any vegetable in your kitchen, we recommend a selection of root veggies like carrots, potatoes and shallots. Add in a half-pound of brussels sprouts, and you have a fiber-packed plate of delicious vegetables.
A serving of veggies is crucial for a balanced meal. With one pan, salt, pepper, and a drizzle of olive oil, you can enjoy all the benefits of hearty vegetables in a tasty dish. Each of our recipe's vegetables is rich in vitamins, minerals, and antioxidants so you can get your daily serving of nutrients. 
Seared Scallops
The secret to perfect seared scallops is in the crust. With a bit of butter and extra-virgin olive oil, you can create a crispy scallop. Add a side of crunchy capers and radishes for an antioxidant-rich supplement. If you are looking for a unique dish to spruce up your dinner, these delicious scallops are a heart-healthy and tasty option.
Scallops and other seafood are high in Omega-3 fatty acids, which can help your nervous system, heartbeat and even your mood. When you sear your scallops with our olive oil, you can feel good knowing the crust is coated in a healthy alternative. Plate your scallops with avocados, shaved radishes, capers, and cress leaves for a green and nutrient-rich meal. 
Summer Salad With Homemade Vinaigrette
A refreshing summer salad can be the energy boost you need in the middle of a busy day. Complete with fresh veggies and a light vinaigrette, this recipe packs loads of nutrients and vitamins. Prepare this salad with our organic sunflower oil and extra-virgin olive oil for a high dose of heart-healthy oleic acid.
Summer salads can include any of your favorite ingredients, so feel free to add your favorite fruits for a bit of tartness. We chose baby broad beans, carrots, radishes, peas, and garden herbs for the main ingredients. Each of these veggies adds beneficial minerals and vitamins to your meal. Drizzle a homemade vinaigrette with white vinegar, Dijon mustard and olive oil, and you have a filling side dish for your summer barbecue.
Grilled Veggie Kebabs With Herbed Olive Oil
Veggie kebabs combine all your favorite ingredients with one simple recipe. Zucchini and summer squash are low-calorie, high-nutrient vegetables with a delicious warm flavor. Combine these with bell peppers and portobello mushroom caps for a well-rounded serving of veggies. Serve these kebabs alongside corn on the cob or grilled tomatoes for even more nutrients.
Grilling these appetizer kebabs is the perfect dish for your summer party. They can complement a plate of seafood, chicken or quinoa as a vegetarian option. Top each kebab with La Tourangelle olive oil and your favorite mixture of herbs to give it an extra boost of flavor.
Five-Ingredient Salmon
With our five-ingredient salmon recipe, you can serve your family's new favorite meal in under 30 minutes. Start with fresh salmon fillets, and add a mixture of olive oil, Dijon, mayonnaise and chopped herbs. Cook on the grill for 15 minutes, and you have a delicious main course rich in antioxidants.
We love salmon dishes for their simple and delicious dose of Omega-3's. Salmon is a lean and protein-rich fish, which helps your body's muscles and protects your bones. When you prepare salmon with a simple recipe, you can enjoy numerous health benefits and a delicious flavor. 
Strawberry Caprese Panzanella Salad
A colorful salad is an essential addition to any diet. With our strawberry Caprese Panzanella salad, you can feel good enjoying this hearty dish. Like this recipe, arugula-based salads are high in calcium, potassium, and vitamin C. This low-calorie, low-fat base is perfect for serving strawberries, pine nuts and creamy burrata.
Drizzle our olive oil and balsamic vinaigrette for a light dressing packed with nutrients. Serve this dish as a quick and easy starter or alongside your favorite lean meat for a complete meal. Enjoy this light, summery dish as your new favorite seasonal salad. 
Enjoy the Delicious Taste of Healthy Eating With La Tourangelle
With the right ingredients, we believe you can make delicious food that you feel good eating. La Tourangelle's extra-virgin olive oil elevates any meal with its unique flavor and high oleic acid content. We source our olive oil from small, organic co-ops in Spain and use our expertise to include the best ingredients. Made with authentic artisan craft, La Tourangelle olive oil is a part of your kitchen you will want in every recipe.
Experiment and create healthy recipes of your own with olive oil that completes every meal. La Tourangelle's flavorful cooking oils are perfect additions to try in any of the above recipes. To learn more about our selection, you can shop our full range of cooking oil products.