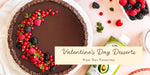 Celebrate your valentine with a gift of delicious chocolate truffles. Our Hazelnut Oil binds sweet dates, dark cacao and nutmeats into a truly sweet confection. Sprinkle with chopped pistachios, dried raspberries, flaked coconut or sea salt for extra flavor and color.
Marie Reginato's healthy dessert recipe consists of dark chocolate covered strawberries, apricots, and peach slices. Chewy Medjool dates are stuffed with Fleur de Sel Almond Butter and added to this delicious fruit dessert medley.
Feeling the spring vibes around the world with this No-Bake Chocolate Tart made with La Tourangelle Avocado Oil. It's rich and silky, topped with fresh berries, and very easy to make. The best part is that it's free of gluten and refined sugar!
These baked donuts are pretty in pink and a cause for celebration at the breakfast table! Our Roasted Almond Oil lends flavor and moisture to the batter, while creamy Coconut Oil is the base for a sweet raspberry-rose icing. Perfect for dunking or delicious on their own, raspberry-rose donuts make any time of the day a special treat.
Avocado Oil is used to make this gorgeous Chocolate Avocado Oil Cake. It makes the cake so moist and spongy and is super delicious by itself! The frosting is made with a Strawberry and Pink Peppercorn Jam, which is super fruity, fragrant, and peppery at the same time! It is elevated with some fun piping, sprinkles, and edible gold leaf! Recipe & Image by @TheJamLab