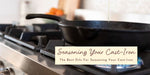 With many cooking oil options to choose from, deciding what oil to season a cast-iron with can be overwhelming. Here is a guide to the best oils to season your cast-iron skillet with so you can keep your cookware lasting and beautiful.
Why Should I Season My Cast-Iron?
Seasoning is the process of baking oil onto a cast iron through a process called polymerization. Using the proper cooking oils, the cast-iron will absorb those oils into the pan and become part of its slick layer. The cooking oil will fill the tiny pores that are naturally a part of any cast-iron pan, pot, or skillet. Once you heat up your cast-iron and essentially cook those oils into your pan, you will be left with a smooth surface for cooking. With a smooth surface, you can cook with fewer fats and oils, making your meals lower calorie overall. 

Seasoning forms a natural, easy-release cooking surface, and helps prevent your pan from rusting. Cast-iron pans need to be seasoned before you use them, otherwise, you'll find it next to impossible to release any of your food from the pan. For an in-depth guide on how to season a skillet or other cookware properly, read our article that explains How to Season Your Cast-Iron Skillet. 
 
Best Oils To Season Cast-Iron Skillets
During the cast iron seasoning process, make sure to exceed the smoke point of your oil of choice by at least 20 degrees. This will allow the oil to polymerize and form the oil barrier that you are trying to achieve. If you do not season the skillet at a higher temperature than the smoke point you might end up with a sticky finish. We recommend you use polyunsaturated oils and avoid rich, fatty oils.
Cast-Iron Recipes

The Pommes Anna, a pretty spiraled disc of thinly sliced potatoes is the perfect side next to roast chicken, steak or even at brunch with eggs and a lemony salad. These potatoes can get ultra golden brown and crispy on the outside with a creamy center, thanks to our Avocado Oil. 

This Apple Sage Pork Chops with Grapeseed Oil is a one pan wonder! The flavors of fall come together in this hearty seared pork chop recipe. Apples take a savory turn when roasted with earthy sage and thyme in our light Grapeseed Oil. Be sure to pour all the pan juice over the chops for a delicious finishing sauce.

Strawberry Ginger Pecan Skillet Streusel Cake is extremely satisfying. It is outrageously moist and juicy - thanks to our Roasted Pecan Oil, kefir, and cooked fruit. The buttery-crispy pecan streusel makes an excellent contrast, and the batter, fortified with buckwheat and orange zest, makes the cake itself earthy and bright. All the elements come together and produce one of the best baked fruit treats ever!