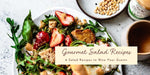 No dinner party is complete without a refreshing, gorgeous salad. Salads are an essential part of every dinner party menu, whether they serve as the introductory first course or as a healthy and refreshing side dish. However, salads are often thrown together at the last minute without much consideration. While it is possible to create salads quickly, the highest-quality recipes require thought and preparation. Taking the time to prepare a superb salad is well worth the time investment. An elegant, gourmet salad is a beautiful thing. They are filled with bright greens, colorful vegetables, ripe fruits or even flowers, and they create a kind of edible art that will amaze and delight your guests. If you want to truly wow your dinner party guests, try preparing one of these elegant salads that will thrill the taste buds and make a stunning statement as the main entree or a lovely side dish.
Tips for Choosing Salad for a Dinner Party
When you begin to plan the menu for your dinner party, you can easily get overwhelmed by the sheer amount of available options. When you can choose from thousands of delicious salad recipes, it is often difficult to decide which one is the right fit for your guests and menu. Below are some elements to consider before you begin tossing your salad:
1. Know How Much Salad You Will Need
The first step in narrowing down your search is to answer two basic questions: How large does the salad need to be, and how many different salads do you want to serve? As a general rule, plan for one or one and a half cups of salad per serving. Depending on the type of salad and your personal preference, you may choose to prepare more for each guest.
2. Decide How Many Salads You Want to Prepare
You can prepare several batches of a single salad or try a few different recipes — one approach is to make two distinct types of salad and let your guests choose the one they prefer. For example, you could have a savory salad in one bowl and a more delicate, fruit-laden option in another. Preparing multiple salads gives your guests some customization over their dinner and ensures everyone will have a salad they love.
3. Consider Flavors
Flavor is always a vital consideration when planning a menu. However, it is not enough to just choose a recipe that tastes wonderful — the flavors of the salad must pair well with the rest of your menu. Think about the main tastes and themes that thread through your menu. For instance, if your main course includes sesame or other Asian flavors, you could use toasted sesame oil in your salad vinaigrette to tie the two dishes together. Another way to pair dishes is through contrast. If your main dish is savory and hearty, you could try pairing a lighter salad with some fruit as a side dish to balance out the heavier flavors of the main course.
4. Toss at the Table
No one likes a soggy salad. To prevent the dressing from soaking into the vegetables, toss your salad once your guests have arrived. For added impressiveness, you could toss the salad at the dinner table, in front of your guests. This is practical as well as entertaining — tossing your salad as close to serving time as possible keeps it crisp and fresh.
5. Think About Presentation
Another reason to toss a salad at the table is an extended presentation. Salads feature some of the most beautiful ingredients available — verdant greens, vibrant vegetables and bright fruits are just a few of the colorful components you can use to sculpt a winning salad. When you are planning your dinner party, think about the presentation of your salad. Pick a few colors besides the green base and arrange them artfully around the top of the salad. See if you can make it as beautiful as possible — your salad will taste incredible, and the lovely presentation will take your guests' breaths away.
6. Factor in Allergies and Dietary Preferences
When planning your dinner party, ask your guests if they have any food allergies or specific dietary preferences. That way, if one of your guests avoids nuts or dairy, you will know to keep items such as cheese or sliced almonds on the side. Planning an elegant dinner party takes thought, but with a little preparation, you will find the perfect fancy salad recipe to keep your guests coming back for more. Interested in getting the latest special offers, newsletters and recipes? Sign up for our Artisan Oil Club! 
Best Salads for a Dinner Party
Once you have decided how much salad you need and what flavors mix well with your menu, you are ready to choose your recipe. Below are six of the best salads to serve at your next dinner party. For complete instructions, check out the full recipe linked in each option:
1. Mixed Asian Salad with Macadamia Nuts
Sesame and macadamia nuts are the starring flavors in this mixed Asian salad. This elegant and versatile salad pairs beautifully with main dishes that feature plenty of fresh vegetables, and the flavors go exceptionally well with Middle Eastern, Indian, Japanese, and Chinese-inspired meals. With subdued colors and a striking taste, this elegant salad recipe adds a gourmet touch to any dinner party. Macadamia nuts add both crunchiness and richness to the salad. To prepare them, toast the nuts in a skillet over low heat until they are a golden-brown color. Repeat the process with sesame seeds. When the macadamia nuts are cool, they will need to be chopped coarsely. Toss a large serving of baby Asian greens and enoki mushrooms with the nuts and seeds to finish the base of the salad. To make the vinaigrette, you will need to combine rice and white wine vinegar, mayonnaise, soy sauce, honey, sesame oil, ginger, chili sauce and garlic in a food processor. Once blended, add vegetable oil to the mixture for creaminess. Make sure not to add the vinaigrette too early — wait until the salad is ready to be enjoyed before adding the dressing.
2. Kale, Quinoa, Avocado and Walnut Salad
Some menus need an extra element of earthiness in their flavors. This kale, quinoa, avocado and walnut salad is a hearty companion to both light and savory main dishes. It is packed with satisfying flavor and is sure to keep your guests coming back for seconds. The recipe currently serves two people, so for a dinner party, you will need to multiply the ingredients three or four times to make enough for every guest. Dark, fresh kale is the superstar of this salad, so take the time to find a variety or batch that looks crisp and lush. Wash and stem the greens, roughly chopping them for easier eating. Add cooked red quinoa for a rich and savory addition to the salad. Spread chopped pieces of creamy avocado across the bed of greens and toss some toasted walnuts over the top. For the vinaigrette, this recipe requires premium roasted walnut oil, lemon juice, maple syrup, Dijon mustard, ground pepper, salt and shallots. Once combined, save the vinaigrette until the salad is ready to serve. If you prefer not to make your own salad dressing, our French walnut oil vinaigrette pairs well with this savory salad. Before you toss the salad, experiment with the presentation — place the quinoa, avocado and walnuts in defined lines over the kale. The subtle colors will create a pleasing aesthetic effect, delighting your guests before they take a single bite. With the earthy notes of kale and walnuts with the creamy texture of quinoa and avocado, this salad is sure to enter your regular recipe rotation.
3. Beet Salad with Goat Cheese
Beets, goat cheese and candied walnuts are a tested-and-true combination that can be found on menus in the world's best restaurants. This simple but delicious gourmet salad recipe is a perfect go-to option with its variety of main dishes and flavors, especially for late summer and autumn themes. You can leave it as-is for a sophisticated, meatless recipe. To make it a heartier meal, you can add slices of grilled chicken to the salad. Begin by finding medium-sized beets — they will provide the signature flavors of the salad. Once the beets have been cooked and cut into cubes, toast walnuts, and caramelize them with maple syrup. Fill a large bowl with baby greens — for an extra gourmet touch, use only greens that are in season. Layer the beets on top, next to a line of walnuts. Sprinkle chunks of goat cheese on top. The bite and creaminess of the cheese will add a delicious taste to the salad. For a bright, refreshing dressing, combine balsamic vinegar and organic, extra-virgin olive oil with orange juice concentrate. Although the dressing is simple, it is not boring — the combination of the vinegar and the citrus merges to create a tangy, light vinaigrette that perfectly marries the different flavors of the salad. Wait until your guests have arrived to drizzle some of the dressing on the salad.
4. Fennel and Citrus Salad With Mint
It is easy to limit fruit salads to the warm months of spring and summer — the refreshing and cooling effect of fruit is an obvious choice for parties during hot weather. However, an elegant fruit salad goes with any season. This gourmet fennel and citrus salad works as well in June as it does in January. Try this exciting fruit-based salad if you are serving a heavy or savory main course — the light fruit flavors can balance out the rest of the menu, cleansing your guests' palates and providing a refreshing break from the heartier dishes. Citrus fruit is the star of this show-stopping salad. Gather red grapefruits and navel and blood oranges for the base of the dish. The different fruits combine to produce an aesthetically pleasing plate — with deep red, rich peach and a soft tangerine color, the citrus fruits create a gradient of sunset-hues. Slice the fruits in thin rounds and layer them in a serving bowl. Add slices of shaved fennel for crispiness. For the dressing, mix avocado oil, honey and lemon juice. Once combined, add some salt for seasoning. After your guests arrive, toss the fruit with the dressing and garnish with mint leaves.
5. Mixed Greens with Poached Eggs, Hazelnuts and Spices
Do not let the simple appearance of this salad fool you — with a complex combination of spices and gourmet, seasonal ingredients, this elegant mixed-green salad is perfect for any dinner party. Begin by collecting large quantities of in-season greens, such as wild arugula, mizuna or purslane. Next, make your spice mixture. In a separate bowl, mix cumin, fennel pollen, cinnamon, and optional licorice powder. The spices add a surprising depth of flavor to the otherwise simple recipe. After you have created the spice mix, poach the eggs. The melt-in-your-mouth texture of poached eggs adds creaminess, savories and protein to the salad, giving it an extra heartiness. The only dressing of this salad is organic, extra-virgin olive oil. Toss your selection of greens with the olive oil and salt and top each guests' serving with a poached egg. Dust the spice mixes over the top and finish with garnishes of chopped, toasted hazelnuts and edible flowers such as elderflowers. Because this recipe includes poached eggs, try to make it as close to the serving time as possible — poached eggs are generally best enjoyed while still warm.
6. Caprese Salad With Whipped Ricotta
Tomatoes are some of the most iconic summertime flavors. This upgraded Caprese salad is refreshing, savory and filled with flavor. It is a perfect way to take your favorite warm-weather ingredient to the next level. Especially when paired with thick pieces of crusty bread and some red wine, this salad works as both a side dish and a main course. If possible, try to make this Caprese salad using heirloom tomatoes. Heirloom tomatoes are known for their lovely coloring and nuanced flavors, and they add instant class to any meal. Mix heirloom tomatoes with halved grape or cherry tomatoes and uncooked zucchini.cv Blend whole milk ricotta with salt, pepper and French-infused basil oil to create the creamy base of the salad. Divide the ricotta mixture into individual serving bowls and layer the vegetables on top. As a garnish, spread a little fresh basil over the bowls before you serve the salad to your guests.
Give Your Salads a Gourmet Touch With La Tourangelle
Salads are filled with color and flavor. With the right recipe, you can make any dinner party seem gourmet with a show-stopping salad. But even amazing recipes will fall flat with subpar ingredients. To make your salads stand apart, you will have to look for excellent vegetables, nuts, fruits, and garnishes — as well as a stunning dressing or vinaigrette. La Tourangelle provides premium, artisan oils for home chefs in any setting. Our broad selection of minimally processed oils allows you to bring out the natural flavors of your food, whether you are in the cooking, garnishing or plating stage. La Tourangelle oils make dressings with deep, complex tastes that enhance the beauty of your salads and are sure to delight both you and your guests. Browse our selection of artisan oils such as 
delicate avocado oil
, 
extra-virgin olive oil
 and 
roasted walnut oil
 to create your own dressing from scratch, or consider one of our organic and unique salad dressings to add a professional touch to your menu. Look through 
our online portfolio of artisan oils
 to begin building the perfect, elegant salad for your next dinner party.