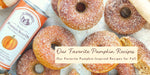 From pumpkin spice donuts to butternut squash soup, our Toasted Pumpkin Seed Oil brings the taste of fall to your kitchen!
Skip the peanut brittle this Halloween and make something worthy of your favorite little trick-or-treaters. Blend pumpkin seeds into a sweet candy coating of spicy cinnamon, sea salt and a pinch of cayenne pepper. Toasted Pumpkin Seed Oil provides a nutty flavor to each and every bite.
Nothing takes the chill off of a crisp autumn day like a satisfying bowl of vegetable soup. Butternut squash and seasonal apples are roasted with earthy sage. A generous drizzle of Toasted Pumpkin Seed Oil rounds out the rich, fall flavors that will have your spoon sinking into this delicious recipe again and again.
These donuts are a definite treat, a fun and festive dessert perfect for this time of year! These baked, homemade donuts are kid approved, much healthier than your average donut, and so delicious.
Traditionally referred to as Kernölgugelhupf, this Austrian-inspired Bundt cake features the rich, nutty flavor of Toasted Pumpkin Seed Oil. What better way to celebrate pumpkin season than with this lightly green colored dessert, topped with the crunch of toasted pumpkin seeds? Treat all of your favorite tricksters this Halloween with a deliciously decadent simple pumpkin seed oil cake.
These vegetarian pockets of savory goodness are hearty, flavorful, and flaky. Perfect for an easy workday lunch or pack them up and hit the road! This hand pie features our flavorful Toasted Pumpkin Seed Oil and the filling recipe makes enough for four hand pies. We have two more exciting vegetarian filling recipes using our Infused Truffle Oil and Roasted Pistachio Oil for the most spectacular trio of handpies. Those recipes are Truffle, Leak and Potato Hand Pies and Pistachio, Pear, and Goat Cheese Hand Pies. Or, if you want to just make a dozen of these Pumpkin Squash, Cranberry, and Kale Hand Pies (who could blame you?) triple the filling quantities to make 12.