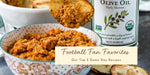 Get ready for game days with our fan favorite recipes! 
Looking for a quick, easy, and tasty recipe for Game Day? These sticky sesame chicken wings are packed with all the savory flavor notes that leave you licking your fingers after each bite. Toasted Sesame Oil provides a rich umami base for this hearty Asian-inspired appetizer.
Sliders are an American classic. Whether on the grill or in the kitchen, these mini hamburgers serve up flavor with every bite. The secret is an infusion of Garlic Oil, Dijon mustard, fresh thyme and shredded Gruyere cheese within the meat before grilling. Pile high with tomatoes, red onion, and arugula for a satisfying meal.
Kick off your Game Day with a bowl of flavor-packed popcorn. Garlic oil, chopped rosemary, crumbled bacon, and grated Parmesan give this recipe a winning combination. Be sure to make enough for all your sports fans and cheer your team on to victory! Try our new popcorn sprays for easy application!
Take a bite of this creamy mac 'n cheese with a buttery cracker topping for that added crunch. Add some Infused Garlic Oil to add that extra bit of flavor.
Bring some heat to your game day appetizers with this zesty chip and dip combo. Russet potatoes are tossed with warm Southwestern spices and baked in the oven with our peppery Extra Virgin Olive Oil. Top with a flavorful Romesco sauce that blends roasted red pepper, garlic, almonds and paprika. Every kick-off time deserves a spicy kick!