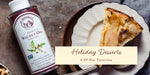 The holiday season is just around the corner, so we've rounded up some of our favorite goodies for this time of year. Perfect for sharing with your friends and family!
If you decide that olive oil sounds good, not only for savory dishes, but for sweet ones as well, you will love this mom's favorite cake. Using a good-quality olive oil makes a difference in this cake, which is dense and moist and just the right amount of sweet.
Whether you are serving a coffee cake in the morning or an elegant dessert after dinner, this pear walnut cake is a welcome addition to any table. Juicy, seasonal pears top a rich, moist cake that is loaded with toasted walnuts and flavorful Walnut Oil. This may become your go-to recipe this fall! Perfect with a cup of coffee or tea.
Searching for a dessert that is able to impress your dinner guests with a minimum amount of effort? Then look no further than this decadent mix of whipped cream and roasted pistachios. The smooth texture and rich taste of this pistachio oil mousse is a satisfying end to any meal.
Even die-hard butter devotees admit that olive oil makes exceptionally good cakes. Moist in every bite, this olive oil cake has fresh herbal notes of thyme, the fruitiness of extra virgin olive oil, and a luxurious density from yogurt and honey.
While apples are traditionally featured in a tarte Tatin, this recipe brings seasonal fruits such as persimmons and cranberries to center stage. Buttery puff pastry gets a flavorful finish with our rich Walnut Oil. This dessert may become a new favorite for all of your holiday gatherings!