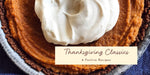 Explore our Thanksgiving classics! From sweet potato pie to avocado oil infused turkey, our recipes are sure to delight!
Spatchcock roast turkey will become your go-to for Thanksgiving! The spatchcock process removes the backbone, butterflying the whole bird for even cooking. This produces juicy and extremely flavorful results in about an hour. La Tourangelle's Avocado Oil is not only nutrient-dense, but also adds a subtly buttery flavor that complements the herbs and roast meat in an amazing way. 
A divine trio of tender beans, sweet pomegranate and crunchy walnuts receives a generous drizzle of nutty, rich Toasted Pumpkin Seed Oil. This easy, mouthwatering addition to your green beans is welcome with any holiday meal.
Made with our Olive Oil our brussels sprout salad is the perfect side for your feast.
Our Garlic Oil brings the perfect layer of flavor to our cheesy mac 'n cheese!
Some would say that stuffing is the side dish that everyone looks forward to at Thanksgiving. Apples, sausage, and walnuts provide a sweet and savory combination to this traditional dish, baked separately from the turkey. Add a healthy drizzle of rich, artisan Walnut Oil before serving.
After a rich holiday feast, the last thing I want is a sweet-sweet dessert. Instead, opt for this silky, sweet-but-not-cloying sweet potato + ginger thin pie. It delivers excellent layers of texture (literally!) and an enticing luxe quality, imparted by the roasted sweet potatoes and
coconut oil.