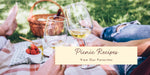 With the weather warming up and the spring flowers blooming all around, now is a great time to get outside and enjoy a picnic in the park. Picnics are great for bringing everyone together! Use this guide to help you decide which recipes you want to bring to your next picnic. 
Summer fruits get an extra kick with bright lime juice and hearty Roasted Pistachio Oil. Enjoy as a side salad or serve as a light summer dessert.
Orange and jicama give this salad brightness while the rich, buttery Avocado Oil rounds out these fresh summer flavors. This combo is a perfect addition to bring to any picnic.
A twist on the classic tuna salad! Adding Avocado Oil because of its fruity, delicate flavor and our Garlic Oil for extra flavor in the mustardy dressing will take these sandwiches up a level. Pack these sandwiches up in some parchment paper and throw them in a cooler to bring to the park!
Sweet and savory, this tart is perfect for the whole crowd. Roasted Walnut Oil adds a nutty complexity to the salty prosciutto, creamy mascarpone, and sweet figs. In the summer, replace figs with ripe stone fruits for equally great results. This tart is ideal for a party, picnic, or decadent snack anytime.
Moist in every bite, this olive oil cake has fresh herbal notes of thyme, the fruitiness of Extra Virgin Olive Oil, and a luxurious density from yogurt and honey. It is practically effortless to put together but makes for an extremely moist and tasty cake.
Pack in the peanut flavor with this recipe for peanut butter cookies thanks to our Roasted Peanut Oil. These cookies are chewy and crunchy, and easy to pack up and take on the go.