Step up your grilled drumsticks with this sweet and savory barbecue sauce. Apricot jam serves as a base for this new twist on summer basting and finishes with a delightful drizzle of Roasted Walnut Oil.
---
Olivia Ramsey

Tags:

BBQ, Entrée, General, Gluten Free, Keto, Mediterranean, Olive, Omnivore, Paleo, Quick Meal, Side
You're only 5 ingredients away from one of our favorite simple summertime meals. Our grilled salmon recipe is ridiculously easy to prep and even more wonderful to eat! Paired up with a refreshing salad or grilled veggies, it's a meal that's destined to earn a spot on your weekly dinner rotation.
---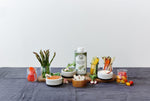 A trio of dipping sauce to enjoy with all kinds of raw vegetables, to spread on bread, to mix in your sandwich or to go with you BBQ veggies. Using La Tourangelle's Extra Virgin Olive will uplift the nutrient quality of your composition. Romesco sauce: a combined essence of grilled pepper, tomatoes, chile and roasted nuts. Ailoi: pure Mediterranean sauce with garlic and mayonnaise. Salsa verde: unique salsa verde with anchovy fillets and cornichons.